Urban Living Köln Zentrum

Do you want to live, study and work in Köln?
Then welcome to Urban Living Köln Zentrum. Our residental complex in the middle of Köln is modern and exclusive. You will find available comfort and penthouse apartments.
Ideal for executives, commuters, newcomers, trainees, interns and students.
Discover our great community and feel at home.
We look forward to seeing you!

Urban Living Köln Zentrum
Mengelbergstraße 2
50676 Köln

Move in? That's the way:
Are you interested in an apartment in Cologne from the next possible date?
Please register online and reserve an apartment. If you like you can reserve a parking space, too.


Answers to almost all questions and lots of information about the apartments, the community areas, etc. can be found here: frequently asked questions.
You are also welcome to contact us at any time via the contact form. Incoming mails are processed promptly.

Apartment 'type comfort'
one-room comfort apartment (approx. 21-24 m²)
partly with terrace on the ground floor
suitable for one person
lease price: from 430,- euro + additional charges (the rents are staggered according to floor, location, size...)
flat-rate ancillary costs: 135,- euro
water, hot water, heating, electricity, community manager, caretaker, internet connect 10 MBit/s etc. contained
stairs & elevator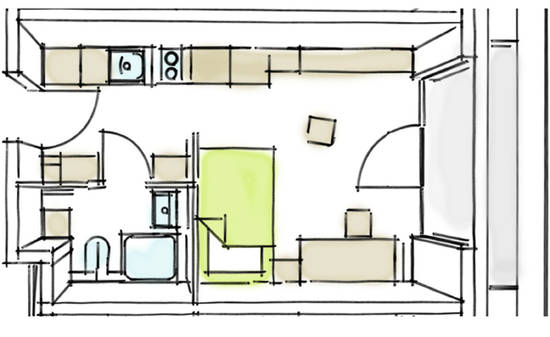 Accoutrement:
Modern furniture of high quality:
bed with mattress incl. hygiene cover
wardrobe
dining table & chairs
writing desk
shelves, TV - board, garderobe
galley kitchen with refrigerator, oven, glass ceramic hob, extractor fan, sink
trendy bathroom with shower cabin

Apartment 'type comfort L'
Comfort L
one-room comfort L apartment (approx. 24-36 m²)
suitable for one person
lease price: from 500,- euro + additional charges (the rents are staggered according to floor, location, size...)
flat-rate ancillary costs: from 135,- euro
water, hot water, heating, electricity, community manager, caretaker, internet connect 10 MBit/s etc. contained
on the ground floor: terrace included
upper floor: mostly with balcony
stairs & elevator
Accoutrement:
Mode
rn furniture of high quality:
bed with mattress incl. hygiene cover
wardrobe
dining table & chairs
writing desk
shelves, TV - board, garderobe
galley kitchen with refrigerator, oven, glass ceramic hob, extractor fan, sink
trendy bathroom with shower cabin

Apartment 'Type comfort XL'
Comfort XL
one-room comfort XL apartment (approx. 32-37 m²)
suitable for one person
lease price: from 570,- euro + additional charges (the rents are staggered according to floor, location, size...)
flat-rate ancillary costs: from 135,- euro
water, hot water, heating, electricity, community manager, caretaker, internet connect 10 MBit/s etc. contained
on the ground floor: terrace included
upper floor: mostly with balcony
stairs & elevator
Accoutrement:
Mode
rn furniture of high quality:
bed with mattress incl. hygiene cover
wardrobe
dining table & chairs
writing desk
shelves, TV - board, garderobe
galley kitchen with refrigerator, oven, glass ceramic hob, extractor fan, sink
trendy bathroom with shower cabin
couch with coffee table

Apartment 'Type penthouse'
one- or two-room penthouse apartments (approx. 36-41 m²)
with roof-deck
suitable for one person
lease price: from 600,- euro + additional charges (the rents are staggered according to floor, location, size...)
flat-rate ancillary costs: 135,- euro
water, hot water, heating, electricity, community manager, caretaker, internet connect 10 MBit/s etc. contained
stairs & elevator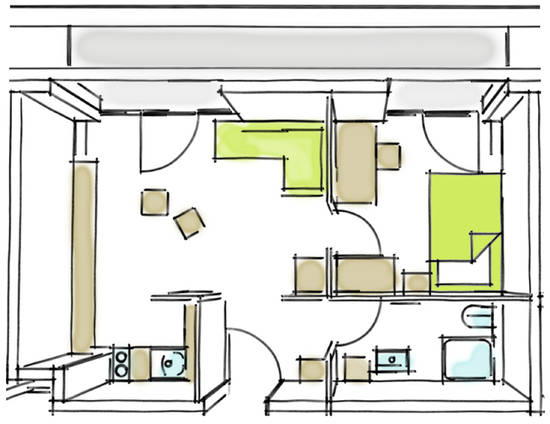 Accoutrement:
Modern furniture of high quality:
bed with mattress incl. hygiene cover
wardrobe
dining table & chairs
writing desk
couch
shelves, TV - board, garderobe
galley kitchen with refrigerator, oven, glass ceramic hob, extractor fan, sink
trendy bathroom with shower cabin
Marc - Community Manager and Dirk - Facility Manager at Urban Living Köln
Urban Living Köln - Modern Microapartments